This signal post provides an overview of progress and expected future directions of digital platforms in the context of food. Firstly, we take a look at existing platforms of different type within the consumer interface. Secondly, we explore the wider opportunities of platforms along entire food production chains and ecosystems. Thirdly, we identify a handful of emerging platform innovations waiting to enter the markets.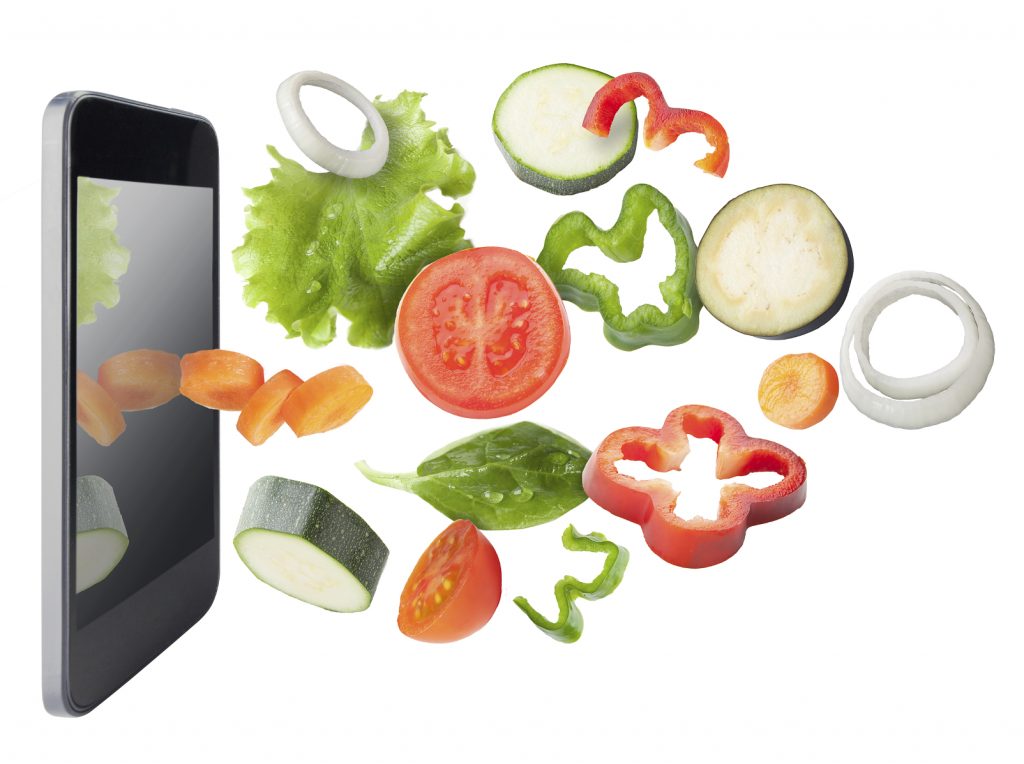 Platforms for the consumer
In the context of food, digital platforms for consumers can make the daily life more convenient, efficient and affordable. Comparing choices is easier, payments happen online and deliveries can be arranged too. Special deals and personalised offers are being increasingly used, and customer review systems act as an in-built quality control measure. Digital platforms may also serve as gateways to widen the range of accessible choices for consumers or bring additional benefits such as social connections. A platform can help arrange a lunch date with a potential new business partner or connect like-minded people to cook and eat a meal together.
Platforms for everyday grocery shopping remain for the time being primarily company-specific initiatives, as large grocery retailers that dominate the traditional markets have preferred to build their own platforms rather than common marketplaces. The restaurant business, specialised small-scale producers and consumer-to-consumer segments have, on the contrary, been keen to adopt platforms based on two-sided or multi-sided markets. Examples of these include:
It is notable that many of the established and emerging platforms contribute to (economically, environmentally or socially) sustainable consumption patterns and sharing economy principles. Restaurants and households alike are minimising food waste, and social connections and community spirit are fostered through local activities. Even the food delivery services are, instead of simply increasing motorised transport and related negative externalities, growingly using sustainable alternatives like bike couriers.
Platforms for the food production chain
Digital platforms have potential also in capturing entire supply chains and supply network ecosystems of food production. The food industry is, in fact, an exceptionally interesting application area, because benefits of digitally managed production chains do not limit to the obvious efficiency savings but extend to topics such as food safety, cold chain management and transparency in production conditions and origin.
One example of future opportunities with digitalisation is the so called Food Economy 4.0 that paints a picture of a sustainable consumer-centric ecosystem. The core of this concept relies on three change paths: (1) from mass production to personalised solutions, (2) from centralisation to agile manufacturing and delivery and (3) from horizontal to vertical food production. In Finland, a strategic roadmap has even been drafted to an envisioned consumer data-driven, digital platform model to disrupt inflexible and inefficient value chain structures among primary production, various industry sectors, logistics, retail and service sectors in the food chain. This concept foresees that industrial platform creation could proceed step-wisely and ultimately evolve from transportation, warehousing and market platforms into long-term interoperability across industries and platforms.
Similar ideas relating to the currently linear, industrialised and centralised food supply chains are also promoted in examples such as food hubs, precision agriculture and analytics, recycling applications and dietary information systems. Even if we currently see these concepts emerging as standalone applications and platforms, the next step forward would be to embed and interconnect them throughout value networks. Stakeholder collaboration and novel thinking will be a necessity, but synergetic effects and added value are expected to be substantial.
Longer term visions
Even more innovative long-term visions for food in the platform economy include initiatives that plan to use blockchain technologies to manage transactions. Russian-originated INS Ecosystem plans to transform the push-based grocery business to a pull, using a dynamic system to fulfil orders and adjust prices by connecting sellers and buyers directly. This efficiency improvement would minimise the need for shelving foods and also reduce waste. Another similar decentralised marketplace initiative is BlockFood with its technical architecture based on smart contracts that allow customers to order food from restaurants and have it delivered. A third example, FoodCoin, has perhaps even more ambitious plans, aiming to create a global marketplace of food and agricultural products using the Ethereum technology. The platform would engage all actors along the supply chain from farmers and equipment manufacturers to food manufacturers, restaurants and consumers. All of these platforms have advanced plans to make use of tokens and cryptocurrencies.
But what if the food itself that we consume will change dramatically? Powdered meals and personalised food fabrication are examples of such innovations. These would implicate even wider opportunities for digital platforms, as instead of traditional recipes and supply chains the demand would expand to smart, personalised diet planning and novel nutrient markets. The focus could thus move from platforms optimising logistics to platforms providing intelligent nutritional solutions that are tailored to personal needs. Further on, personalised approach to food to improve wellbeing and health could even be combined with measuring and monitoring of your daily condition, genetic information and personal goals. And all of this could be interlinked to platforms that use nudging and positive reinforcement to encourage positive behavioural patterns in our daily choices, a step forward from what platforms like Zipongo are already exploring.
Selected articles and websites
Allfoodexperts: Food powder. Eat what you like
Allfoodexperts: Sharing Economy Reaches Food: Startups Based on Collaborative Networks
BlockFood: BlockFood is the world's first decentralized food ordering & delivery platform
Complexity Labs: Food Systems Innovation
FoodCoin Ecosystem: Global blockchain ecosystem for food and agriculture businesses
GreenBiz, RP Siegel: This blockchain startup is hungry to address the grocery industry's food waste dilemma
INS Ecosystem: A Decentralized Online Grocery Marketplace: How it Works for Consumers
Kotiranta et al. (2017): Roadmap for Renewal: A Shared Platform in the Food Industry
MedTech Engine, Mariëtte Abrahams: The personalised nutrition trend – how digital health brands can revolutionise healthcare
News.com.au, Frank Chung: CSIRO sets sights on personalised 'food generator' based on your DNA, lifestyle and even sweat
Platform Value Now, Heidi Auvinen: Digital platforms for supply chains and logistics
Poutanen et al. (2017): Food economy 4.0 VTT's vision towards intelligent, consumer-centric food production
The Technology Media, Elina Koskipahta: The platform combines feedback from journalists, food critics and local users
World Food Program: Maano – Virtual Farmers Market
Zipongo: Eating well made simple