Platforms are all about enabling connections to form between actors, typically producers and users of any given tangible or intangible commodity. But to what extent do these connections result in social value for individuals? There are of course social media platforms that by definition focus on maintaining or creating human relationships whether based on family ties, existing friendships, professional networking, dating or shared hobbies or interests. Interaction, communication and social ties nevertheless take place in other platforms too, and the positive and negative impacts of these may come as a rather unexpected side effect to the platform owner as well as users.
For example, ride-sourcing and hospitality platforms are virtual matchmakers, whose work comes to fruition when the virtual connection proceeds to a face-to-face meeting. A ride is then being shared with or a home is being rented to someone who only a little while back was a stranger. Many suchlike relationships remain one-time transactions, but they can also grow to regular exchanges over the platform or profound relationships outside the platform. Connectivity is as much a part of peer-to-peer platforms as professional and work-related platforms. You may form a personal connection with a specific IT specialist over the IT support system platform even if you never met them offline. Or supply chain business partnerships may evolve out of a one-time task brokerage platform transaction.
Why is this important?
The benefits of platform economy regarding social connectivity are the wide outreach and extremely fast and efficient matchmaking based on personal, professional of other mutual interests. In spite of complex technologies and big data flows, these social connections on platforms can be truly personalised, intimate and rewarding. The flipside of the coin is risks around privacy, safety and security. Reputation, review and rating systems are important ways to tackle these and could help to strengthen the sense of trust and community across user populations of platforms. In fact, one interesting finding of social connectivity in platforms is that relationships are maintained and formed bilaterally between the individual as well as among groups, communities and actor ecosystems. Short-term or long-lasting, these relationships often mix online and offline realities.
Additional concerns related to social connectivity in platforms is how much they eventually promote equality and fairness or if the social interaction is more of a burden than a benefit. Reputation and rating systems may result in unfair outcomes, and it may be difficult for entrants to join in a well-established platform community. Prejudices and discrimination exist in online platforms too, and a platform may be prone to conflict if it attracts a very mixed user population. In the ideal case, this works well, e.g. those affluent enough to attain property and purchase expensive vehicles are matched with those needing temporary housing or a ride. But in a more alarming case, a task-brokerage platform may become partial to assigning jobs based on criteria irrelevant to performance, e.g. based on socio-economic background. Platforms can additionally have a stressful impact on individuals if relationships formed are but an exhaustingly numberous short-term consumable.
Emerging technologies linked to platforms are expected to bring a new flavour to social aspects of the online world. The hype around blockchain, for example, holds potential to enhance and ease social connectivity when transactions become more traceable, fair and trustworthy. It has even been claimed that blockchain may be the game changer regarding a social trend to prioritise transparency over anonymity. Blockchain could contribute to individuals and organisations as users becoming increasingly accountable and responsible for any actions they take.
Things to keep an eye on
Besides technology developers and service designers' efforts to create socially rewarding yet safe platforms, a lot also happens in the public sector. For example, European data protection regulation is being introduced, and the EU policy-making anticipates actions for governance institutions to mobilise in response to the emergence of blockchain technology.
An interesting initiative is also the Chinese authorities' plan for a centralised, governmental social credit system that would gather data collected from individuals to calculate a credit score that could use in any context such as loans applications or school admissions. By contrast, the US has laws that are specifically aimed to prevent such a system, although similar small-scale endeavours by private companies do to some extent already exist.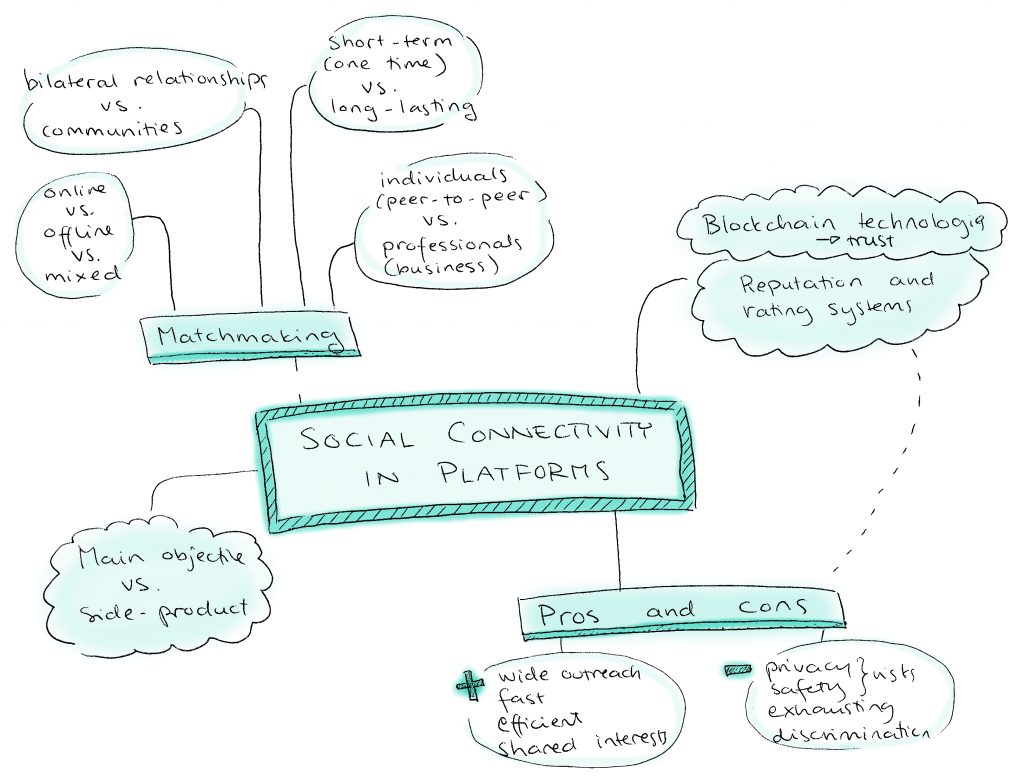 Selected articles and websites
Investopedia: What Is a Social Credit Score and How Can it Be Used?
General Data Protection Regulation (EU) 2016/679 – EUR-Lex
European Parliament: What if blockchain changed social values?
European Parliament: How blockchain technology could change our lives
Rahaf Harfoush: Tribes, Flocks, and Single Servings — The Evolution of Digital Behavior
Koen Frenken, Juliet Schor (2017): Putting the sharing economy into perspective, Environmental Innovation and Societal Transitions
Paolo Parigi, Bogdan State (2014): Disenchanting the World: The Impact of Technology on Relationships